I've finally gotten some free time to get back to blogging!
After giving labor to my beautiful baby boy, Ammar Mikhail, I'm now back to the office and all geared up to resume my skin care quest!
2 months post-pregnancy maternity leave helped me to closely pay attention to skin-caring...Ya laa...with all the jerawat2 and pigmentations... it adds more to your depression feeling during confinement...
Around 3 months ago I purchased Lancome's latest serum - the Lancome Derm-Crystal serum...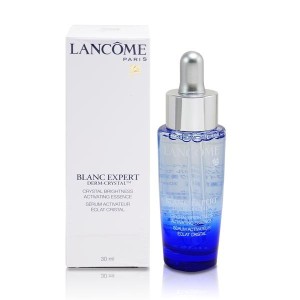 Claiming that it helps to lighten and eventually diminish dark spots on the face, of course this makes me totally tuned! And also the fact that Ms Hermione Granger (Emma Watson), who is the ambassador of this product claims that it does wonders to her skin, made me even more convinced!
Of course I should've factored in the fact that she ALREADY has perfect skin, but for some reason, I'm always a sucker for this kinda marketing gimmick...ALWAYS!
So I pun belilah.....at RM350, its pretty steep for a 50ml bottle!
Sangat comel lah this girl...
FIRST IMPRESSION
The clear coloured liquid smells kinda perfumey...but I kinda like the smell actually...pretty nice...
And also its non-greasy...a great factor!
AFTER FINISH USING
Hmmm.... after 3 solid months of using, I seem to not see any difference...is it due to the fact that my unstable hormones counter-attacks the workings of the product?
After finishing the product, can't see that it does anything to my skin. Spots are still as stubborn...hmmm...I'm so clueless....